Nature-based decentralised wastewater treatment: experiences from the H2020 INNOQUA project
November 2020, Leeds, UK
Earthworms, water fleas and algae: the future of wastewater treatment?
In partnership with water@leeds, Aqua Enviro are arranging the closing conference for the INNOQUA project.  This will provide opportunities for you:
To learn about the project and system performance under widely-varying local conditions;
To debate barriers to the uptake of nature-based on-site solutions; and
To forge new research and business relationships.
There are limited free places available, so please register your interest in attending below, go to:
BOOK YOUR PLACE then 'Register your interest' in the drop-down box, after you have filled in your details please choose to pay (nothing) by invoice.  
Modularity and adaptability to local contexts are key aspects of the project's demonstration approach, with different combinations of the technologies deployed across the demonstration sites (in France, Ireland, Italy, Romania, Scotland, Spain, Ecuador, Peru, Tanzania, Turkey and India). For example, the site in India includes lumbrifiltration, daphniafiltration and Bio-Solar Purification – while the site in Italy includes lumbrifiltration and UV treatment.  Indicative results from these two sites are provided below.
| | | |
| --- | --- | --- |
| ​India: housing cluster | Influent: mean (max)​ | Removal %: mean (max)​ |
| COD (mg/l)​ | 2142 (3970) | 73 (89) |
| BOD (mg/l)​ | 1071 (1700) | 87 (97) |
| TSS (mg/l)​ | 2212 (3855) | 77 (92) |
| NH4-N (mg N/l)​ | 122 (215) | 81 (91) |
| Flow (l/day)​ | 1920 (1920) | ​ |
| | | |
| --- | --- | --- |
| ​Italy: single dwelling | Influent: mean (max)​ | Removal %: mean (max)​ |
| COD (mg/l)​ | 1079 (2120) | 82 (97) |
| BOD (mg/l)​ | 386 (494) | 95 (98) |
| TSS (mg/l)​ | 284 (830) | 94 (99) |
| NH4-N (mg N/l)​ | 137 (179) | 97 (99) |
| Flow (l/day)​ | 337 (337) | |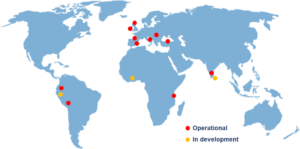 Innoqua Installations
COVID-19
The team at Aqua Enviro understands the seriousness of the COVID-19 outbreak and we are actively monitoring developments while we continue to plan for this conference. In the unfortunate event that we need to postpone, all bookings will automatically be transferred to the new date (or a refund offered if that person is no longer able to attend). We advise holding back on making travel arrangements until nearer the event date as reimbursement for this expense will not be possible. Any queries, please contact clare.hunter@aquaenviro.co.uk